DISCONTINUED - superceded by Combo MK3
This engine sound simulator is  principally intended for radio controlled model boats but has also found application in trucks, tanks, cars, rock-crawlers and even aircraft.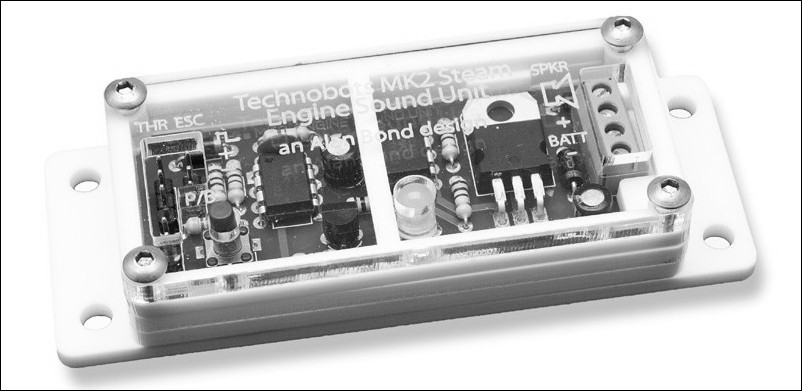 Originally conceived in 2008, I introduced it to the world via TECHNOBOTS as a DIY stripboard design. Three software variants covered 'petrol', 'diesel' and 'steam' sounds. By early 2010 its popularity dictated getting a 'pukka' PCB designed and supplying them ready made. Later the 'combo' variant emerged which combined all three 'voices' into a single unit. At this time the only possible adjustment was the number of cylinders.
In 2013 the MK2 version was introduced, packaged  in a small footprint, low profile, laser cut acrylic case which allowed all wiring connections and adjustments to be made without the need to first remove the case. Now a wide range of adjustments were user accessible via a simple system utilising a pushbutton on the unit in conjunction with the transmitter's throttle joystick (see the bullet points below). The red on/off neutral LED was upgraded to a red/green LED that indicated both the neutral and the run conditions and pulsed in sympathy with the engine speed when the latter was running.

Users could now set the unit to match both the neutral and span parameters of their transmitter joystick anywhere within its 1-2mSec range thereby accommodating forward only systems and pistol type controllers with a 70/30 forward/reverse range.
A further feature was the 'Demo' mode which is of use in static displays at exhibitions. This allowed the model's sound capability to be demonstrated without passing the throttle signal through to the model's ESC – instead, a neutral (stop) signal is sent to the ESC.
In Brief
9 different engine 'voices' to choose from - 8 'petrol/diesel' and 1 'steam

automatic throttle activated start/stop

start-up and run-down sounds ('petrol/diesel' only)

simple user adjustment of




o  tickover




o  top speed




o  idling timeout period




o  engine 'voice'




o  cylinder count




o  neutral




o  span

'demo' mode

bi-colour LED indicates neutral and run conditions

option for remote set-up 
View/Download:
| | |
| --- | --- |
| | INSTRUCTION MANUAL - Combo EngineSound Unit MK 2 |
---
| | | |
| --- | --- | --- |
| This item is exclusively available from | | in the UK |
---