In response to customer demand, the maximum motor run time has been increased to 90 seconds, so the timer is now designated EFF4 - otherwise it is identical to the EFF3.The EFF3 is a smaller version of the EFF2 timer with an improved user interface and is now RDT compatible. It controls motor power and run-time (via an ESC) and has an output to operate a servo for an electronic dethermalizer (DT) servo if desired. The motor power is set by a single turn potentiometer and the motor run and DT periods are set by a simple push button / LED interface. In addition the motor ramp up and ramp down times can be adjusted to ensure a smooth transition into level flight. The RDT input is compatible with the Aeris and LeoBodnar 'host timer' systems.
 EFF3/4 shown with (discontinued) EFF2 for size comparison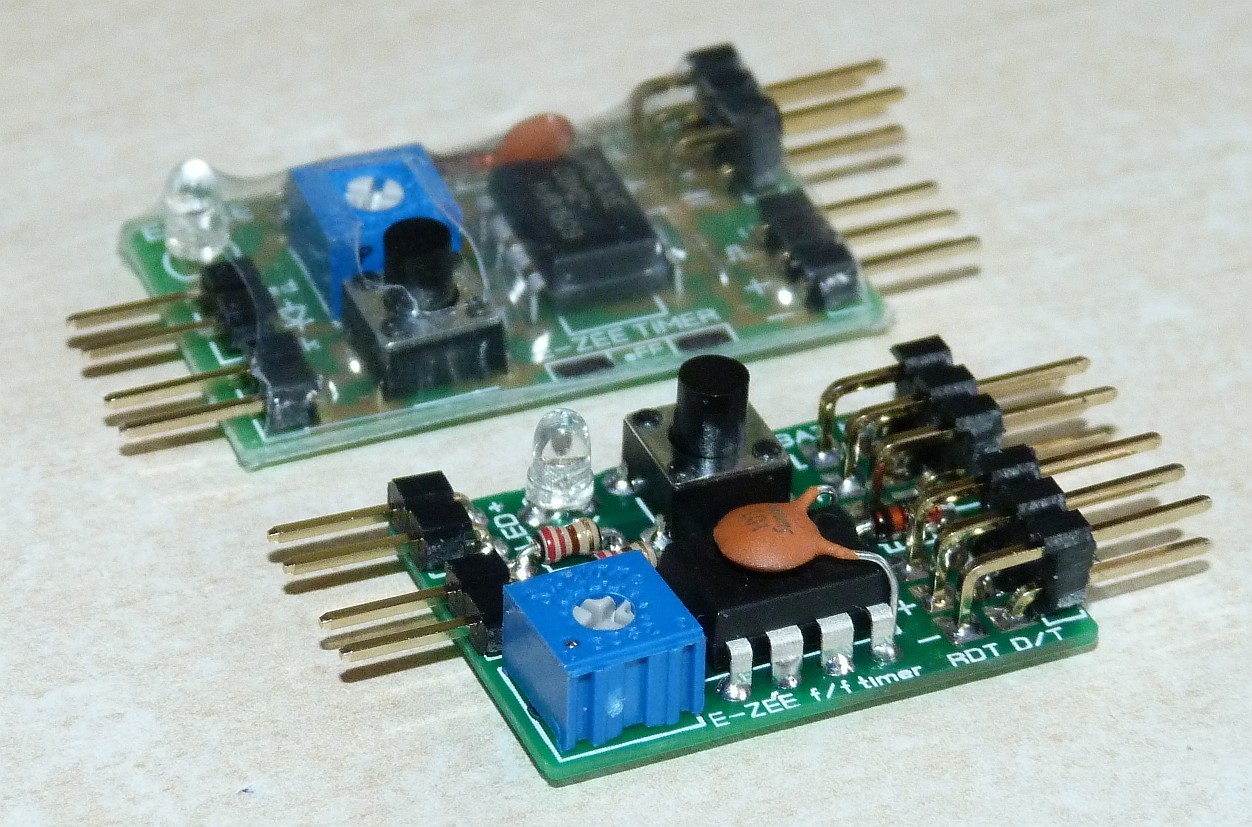 Programing Features:
motor run duration:- adjustable 1 to 30 seconds, set in 1 second increments
d/t duration:- adjustable 10 seconds to 5 minutes, set in 10 second increments
motor power:- adjustable at all times from zero to full throttle (by potentiometer)
motor soft start:- adjustable 0 to 10 seconds
motor run down:- adjustable 0 to 10 seconds
option to reverse direction of DT servo travel
push button immediately stops the motor at any point during the flight profile
duration settings are saved in memory – so a single button push serves to repeat a flight.
provision to fit remote pushbutton and remote LED
unique CONFIG mode for setting up ESCs without additional equipment (programming card or RX/TX otherwise required)
PCB Dimensions:
Length 27mm | Width 20mm | Height 11mm | Weight ~ 5g
Product Features:
The timer is supplied with a comprehensive instruction manual and users guide.
A remote pushbutton and remote LED are available as a plug and play option, for applications where the timer is mounted inside the model.
A 3D printed enclosure (in clear PETG material) is available as an optional extra rather than the standard clear heatshrink covering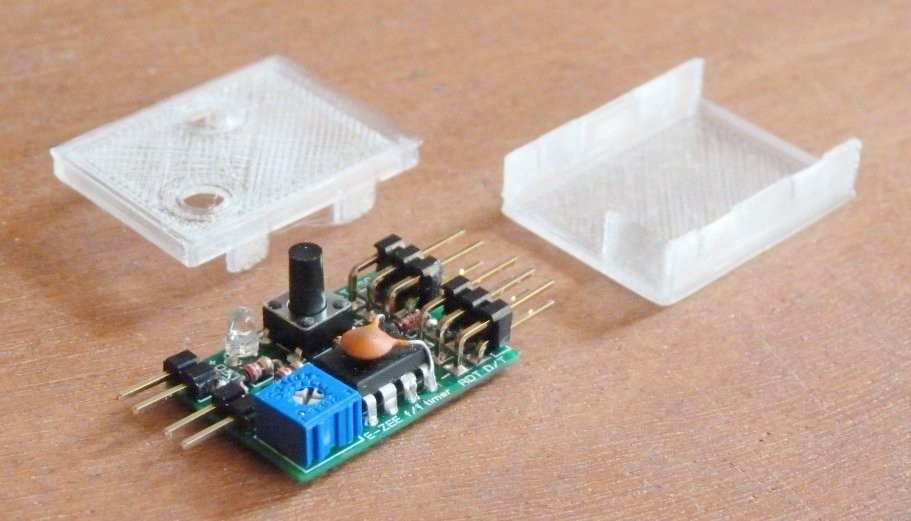 View/Download:
---
| | | | | |
| --- | --- | --- | --- | --- |
| This item is exclusive to | | in the UK and | | in the USA |
---