This timer drives a servo to operate a fuel cut-off or venturi air barrel to govern the run time of IC engines. In the case of RC  equipped engines the air barrel can be smoothly and progressively closed to ensure a gentle  transition into level flight, rather than suffering a stall if the engine is stopped abruptly whilst the model is in a climbing attitude.
 
After a further delay  the  timer drives a D/T servo to terminate the flight. The  throw of the throttle servo is set by a single turn potentiometer and the engine run and D/T periods are set by a simple push button / LED interface.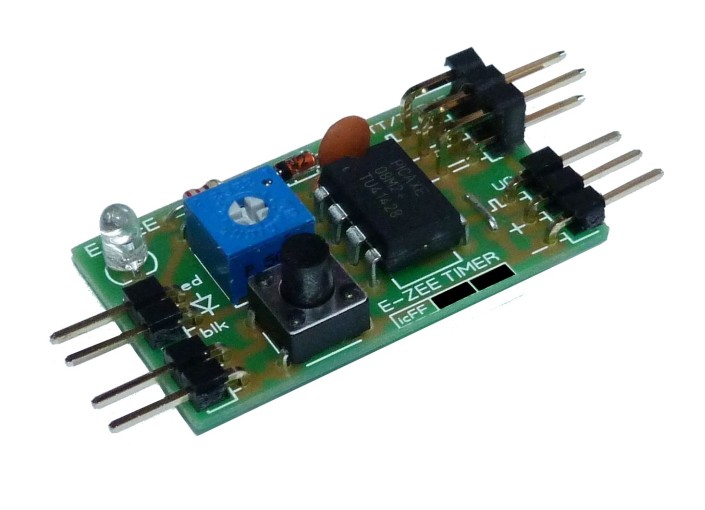 Programming Features:-
engine run duration:- adjustable 1 to 30 seconds, set in 1 second increments
d/t duration:- adjustable 10 seconds to 5 minutes, set in 10 second increments
throttle servo throw is fully adjustable by potentiometer
engine run down:- adjustable 0 to 10 seconds 
push button immediately closes the throttle at any point during the flight profile
operable from a single (3.7v) LiPo cell – max voltage 5.5v
low voltage cut-out and visual indication of state of battery "health"
duration settings are saved in memory – so a single button push serves to repeat a flight
provision to fit remote pushbutton and remote LED
 
If you wish to read the account of the trial of the prototype which was published in Sticks & Tissue 112 (March 2016) follow this link
 
PCB Dimensions:
Length 34mm | Width 20mm | Height 11mm | Weight 5g
Product Features:
The timer is supplied with a comprehensive instruction manual and users guide.
Remote pushbutton and remote LED are available as a plug and play option, for applications where the timer is not able to be mounted in a readily accessible position outside the model.
View/Download:
| | | | | |
| --- | --- | --- | --- | --- |
| This item is exclusive to | | in the UK and | | in the USA |
---