This timer is used in conjunction with any commercially available electronic speed controller (ESC) and electric motor to pre-set duration and power for a Control Line flight. The timer has many attractive features in particular flight times can be as low as 10 seconds which is great for those returning to the hobby or for trimming flights. In addition it has an adjustable start delay to allow solo operation and a warning motor blip plus LED signalling to indicate the end of the timed run. A servo output is provided to operate an undercarriage retract if required.
In response to customer feedback, the end of flight warning device (motor 'burps') has now been made a user selectable option, so the timer is now designated ECL7. The ECL6 is a smaller version of the ECL5 featuring an improved user interface that allows the user to directly access the parameter to be adjusted rather than having to scroll through each of them in turn until the desired parameter is located. In addition the data entry method has been revised so that setting long time periods requires fewer button presses.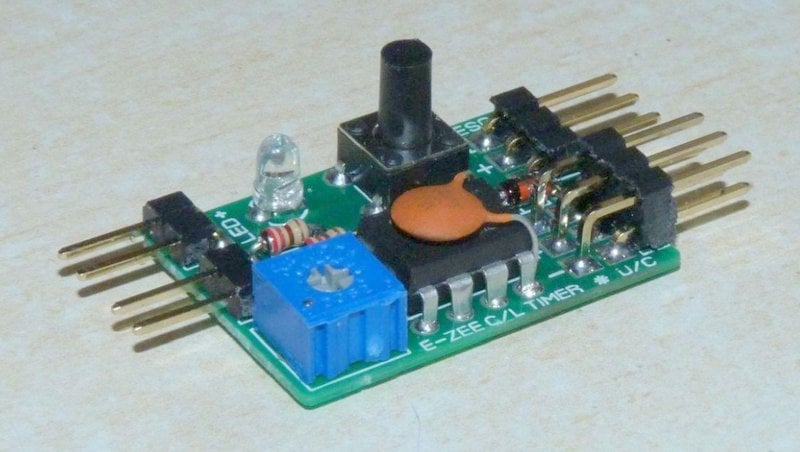 Programing Features:
motor run time 10 secs to 10 minutes in 10 sec increments
motor run time confirmed following setting or may be interrogated at any other time
programmable start delay (for solo operation) – 0 to 90 seconds
motor power - adjustable from zero to full throttle (by potentiometer)
end of flight warnings - visual(high intensity LED) and optional motor power 'burps'
motor soft start - adjustable 0 to 9 seconds
motor run down - adjustable 0 to 9 seconds
undercarriage servo (if used) - retracts 10seconds after flight commences and deploys 10seconds before the flight terminates (for flights of 1 minute or greater only)
take off power boost option (3 secs of maximum power)
push button immediately stops the motor at any point during the flight profile
all settings are saved in memory - so a single button push serves to repeat a flight.
provision to fit remote pushbutton and remote LED
unique CONFIG mode for setting up ESCs without additional equipment (programming card or RX/TX otherwise required) 
PCB Dimensions:
Length 27mm | Width 20mm | Height 11mm | Weight ~ 5g
Product Features:
The timer is supplied with a comprehensive instruction manual and users guide.
Remote pushbutton and remote LED are available as a plug and play option, for applications where the timer is not able to be mounted in a readily accessible position outside the model.
View/Download:
| | | | | | | |
| --- | --- | --- | --- | --- | --- | --- |
| This item is exclusive to | | in the UK | | in the USA |   |   |
---